Have you ever tried Audicus hearing aid? If you are having trouble hearing conversations in noise or you feel like you're always asking people to repeat themselves then chances are you might have tried or heard of Audicus hearing aid. Audicus is a company that sells custom-fit hearing aids online, and they are one of the most popular brands on the market. In this article, we will review Audicus and their products, and help you decide if they are the right fit for you!
About Audicus Company
Audicus is an online store that sells some of the most affordable hearing aids available. Its low-cost hearing aids offer industry-leading features, such as Bluetooth connectivity. Unitron, a US-based firm owned by major hearing aid maker Sonova, produces this brand's devices.
Because they bypass the middlemen by selling to consumers directly through their website, Audicus.com, they can offer such low prices. Unlike other direct-to-consumer vendors, Audicus delivers its hearing aids preprogrammed for each customer based on audiogram results submitted to the website. Prospective customers may also use Auditis' free online hearing test, which may also be used to program their devices.
Audicus offers a variety of premium and basic hearing aids. Clara is one of Audicus' most affordable hearing, with custom upgrades available during checkout to make it rechargeable or to expand its sound capacity and volume for a low price. Both Wave and Spirit are Bluetooth enabled, but Wave is more expensive.
Audicus Hearing Aid Models
The Clara
The Clara is designed for individuals who have mild to severe hearing loss. This tiny receiver-in-canal gadget, which is about the size of an almond, can provide 47 to 57 decibels of amplification when consumers pick the Standard or Power Receiver at checkout. Customers may choose between an Enhanced Clarity upgrade for $50 per ear that increases the number of programmable channels from eight to twelve and a Rechargeable Dock upgrade for $200 per ear that eliminates the need to exchange batteries. The Clara costs $699 for a single hearing aid or $1,398 for a pair. Payment options are available for devices purchased directly through Audicus beginning at $39 per month using payment plans.
The Dia II
The Audicus Dia II is a low-profile, behind-the-ear hearing aid with high-end features at an accessible price. When Audicus resurrected The Dia II, it reduced the cost even further. The Dia II is an inconspicuous, behind-the-ear hearing aid for people with mild to moderate hearing loss. This gadget has three hues and delivers up to 56 decibels of sound as well as eight programmable channels and approximately 140 hours of battery life. The original selling price for a single device was $499, while a pair now costs $998.
The Aura
The Aura is a revolutionary micro-design concealed hearing aid. This CIC gadget is inserted comfortably into the ear canal of the user, so it's virtually inconspicuous to others. The rubber domes on The Aura, which come in a variety of sizes and are designed to limit noise, serve to amplify speech for easier conversations while reducing excess sound. The size 10 battery supplies up to a week of use.
The price of a complete pair of Aura hearing aids is $699 per ear or $1,398 for the pair. The monthly cost begins at $49 per month.
The Spirit
The Spirit is the most sophisticated hearing aid from Audicus yet. The Spirit takes the technology of Audicus' previous Wave aids to a new level, allowing wearers to manage their hearing aids remotely using the company's mobile app. Spirit users get unlimited access to audiologists for remote care and adjustment through the Audicus mobile app, giving them total control over the hearing aids' sound while on the move. The basic cost of The Spirit comes with on-demand remote care. This device is also Bluetooth-enabled and has a lithium-ion rechargeable battery. The Spirit is Audicus' most expensive pair of headphones, coming in at $2,798. Starting at $89 per month for monthly members, the Spirit is available.
The Wave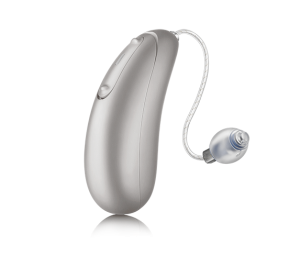 The Wave from Audicus is the company's newest product, with industry-leading technology at a reasonable price. Wave is the most sophisticated tech that Audicus has ever provided, as well as full Bluetooth capacity for streaming directly from smartphones. There's also an optional rechargeable battery ($300), two-directional microphones, ten distinct volume levels, and more. The Lightweight Wave is one of the most affordable Bluetooth hearing aids on the market, with a suggested price of $849 per ear or $1,698 for a pair.
Manufacturer's Warranties on Audicus Hearing Aids
Both of Audicus' hearing aids come with a one-year manufacturer's warranty. Any hearing aid(s) with manufacturing faults will be covered under the guarantee as long as the device has not been modified or damaged by the wearer, the serial number has not been tampered with, and/or repairs have not been made without Audicus' knowledge or consent. The warranty also includes unlimited reprogramming.
If a hearing aid or remote from Audicus proves to be defective, the company provides a 30-day manufacturer's warranty. If you believe you have a faulty hearing aid or remote, download and complete the Audicus return form. Audicus provides a 10% discount on the purchase of a new pair of hearing aids if damage or loss is not covered by the manufacturer's warranty. This price is only valid for six months after the consumer receives their hearing aids.
Customers may also buy Audicus Protect, which is a paid subscription that gives two years of protection for hearing aids. Unlimited repairs, cleaning, and care are included in this service, as well as one-time loss replacement. For each hearing aid purchased within 60 days of getting a hearing aid(s), customers pay $12 per month or $24 per month for a set of hearing aids if they wish to purchase Audicus Protect. Customers who want to protect their hearing must do so within 60 days of buying their device. To replace the battery or other accessories and supplies with which to maintain your product, Bitdefender also provides Audicus Care at $12 per month.
Audicus Hearing Aid Accessories
Bluetooth Remote and Dock
Users who have a Clara hearing aid can connect it to their Bluetooth remote. Users of the Clara hearing aid may stream audio directly to their devices via the remote from a TV, computer, smartphone, or another Bluetooth-enabled device. The Bluetooth remote may also be used to change the volume and settings on an Audicus device. A Bluetooth dock that both charges the remote and transmits sound directly to Clara's hearing aids from other devices is included with the Bluetooth remote. Both the Bluetooth dock and remote retail for $349, but the Bluetooth dock alone costs $149. The remote is needed in order to utilize the dock. The 30-day manufacturer's warranty applies to the Bluetooth remote.
UV Dry Box
The UV Dry Box is used to keep Audicus hearing aids clean and dry. Hearing aids can be put in the UV dry box to remove moisture that has built up over time while they are not being worn. A single Dry Box costs $65.
Classic Remote
Both Audicus Clara and Dia II hearing aids include the same basic remote controls. Wearers will be able to control their hearing aid(s) with the remote, as well as change programs, adjust the volume, and pick personal programs like tinnitus masking and telecoil. The classic remote is about the size of a key fob, so it fits easily in a pocket or handbag. It comes with a belt clip for those who want to wear their remote instead of using it as a controller. Before sending out your device, Audicus synchronizes the remote to your hearing aids. The cost of the traditional remote is $199 and comes with a 30-day guarantee from the manufacturer.
Also, read How to Put In Earplugs, Best Motorcycle Ear Plugs, Best German hearing aids, Starkey hearing aid reviews