Looking for the best open-back headphones? Look no further! In this blog post, we will be discussing some of the best options on the market right now. We'll be looking at a variety of factors, such as sound quality, comfort, and price. So whether you're a professional musician or just someone who enjoys listening to music casually, we have the perfect pair of headphones for you!
1. Audio-Technica ATH-PDG1 Open-Air Headset
Features
Impedance is 42 ohms
Mic frequency range: 100 – 10,000 Hz
The weight is about 7.94 ounces which is not bad.
Headphone frequency range: 20 – 20,000 Hz
40 mm driver diameter
Our Review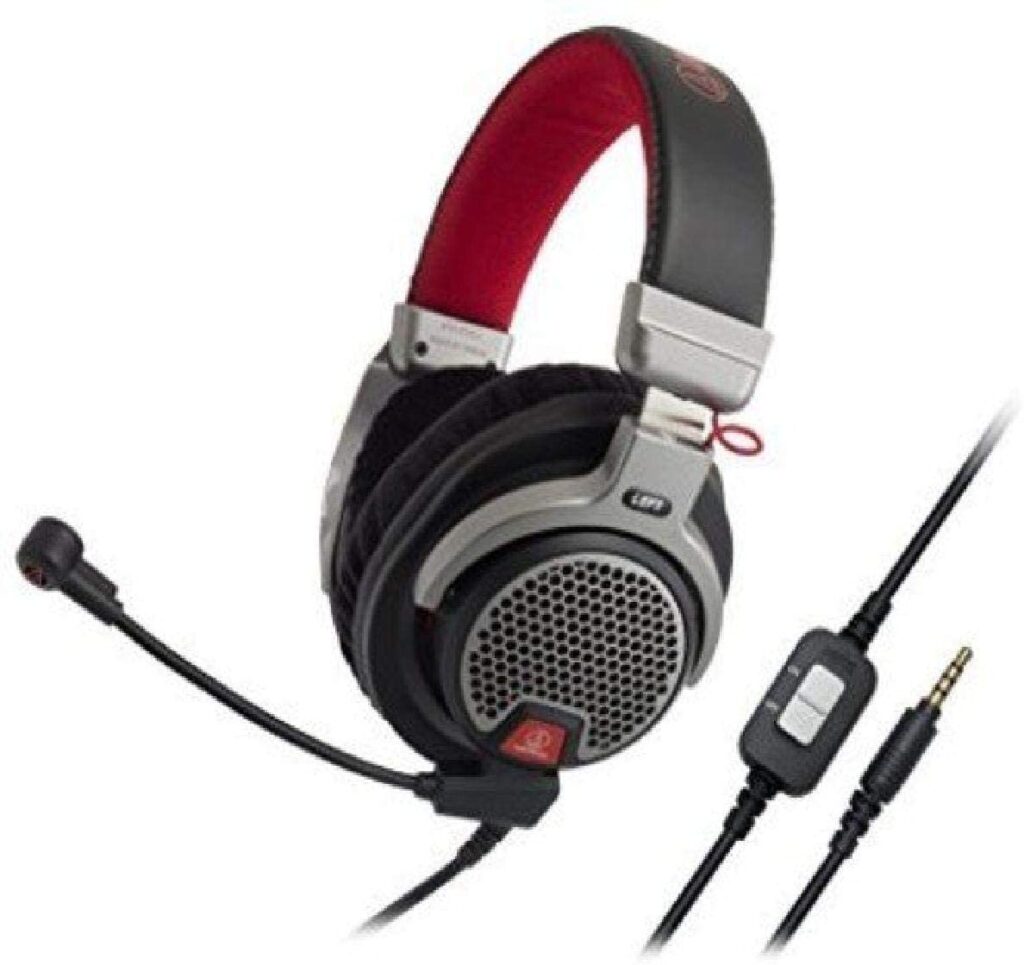 With the Audio-Technica, ATH-PDG1 went for a more gamified look. One of the most attractive open-back headphones on this list is the gray, red, and black color scheme. This headset is quite sturdy and can handle whatever you throw at it. The lightweight, aluminum honeycomb housing provides you with a natural and spacious sound, while the soft and comfortable headband and leather earpads relieve any pressure. Even in intense gaming situations, you won't feel any unwanted strain on your ears, and they will remain cool.
The ATH-PDG1 also has a boom microphone that allows for crystal-clear voice communication with your teammates. The volume and mute controls of the cable with which this 6-inch flexible boom mic is connected are adjustable. This 47 inches long wire may be disconnected and reinserted, turning this excellent gaming headset into a wonderful on-the
It comes with a 79-inch long extension cord for playing on your computer or favorite gaming system, which is extendable to 147 inches using the previous two.
Pros
Flashy, gaming color scheme
Commendable audio and mic quality
Sophisticated and Portable design
Cons
Not enough clamping pressure.
2. SENNHEISER HD 599 Open Back Headphones
Features
Impedance is 50 ohms
The frequency response is 12 – 38,500 Hz
2 detachable audio cables(118 and 47 inches)
Weight is around 8.8 ounces
Sound pressure level (SPL): 106 dB SPL
Our Review
The Sennheiser Consumer Audio HD 599 are open-back gaming headphones in the style of HD 599, which is one of the most beautiful pairs of audio equipment available. These wired gaming headphones have an elegant ivory color and a matte surface with brown headband stitching and subtle metallic decorations on the surface.
The HD 599 has an open-back, over-ear design. They are particularly comfortable for gaming for hours on end due to a softly cushioned headband and velour-covered ear pads.
There will be no excruciating pressure on your ears since to the delicate replaceable ear cushions and enormous ear cups, and you will just get to hear your favorite game. Because of the exceptional materials and around-ear design, the audio quality of these open-back headphones is fantastic.
Pros
Exceptional sound quality
The ear cups are extremely comfy.
Elegant looks
Cons
There are no points worth noting about nitpicks.
3. Samson Technologies SR850 Semi Open-Back Headphones
Features
Impedance is 32 ohms
Frequency range: 10 – 32,000 Hz
Sensitivity is 98 dB at 1 kHz
Weight stands at 9.73 ounces
The cable length is around 8.25 feet
Our Review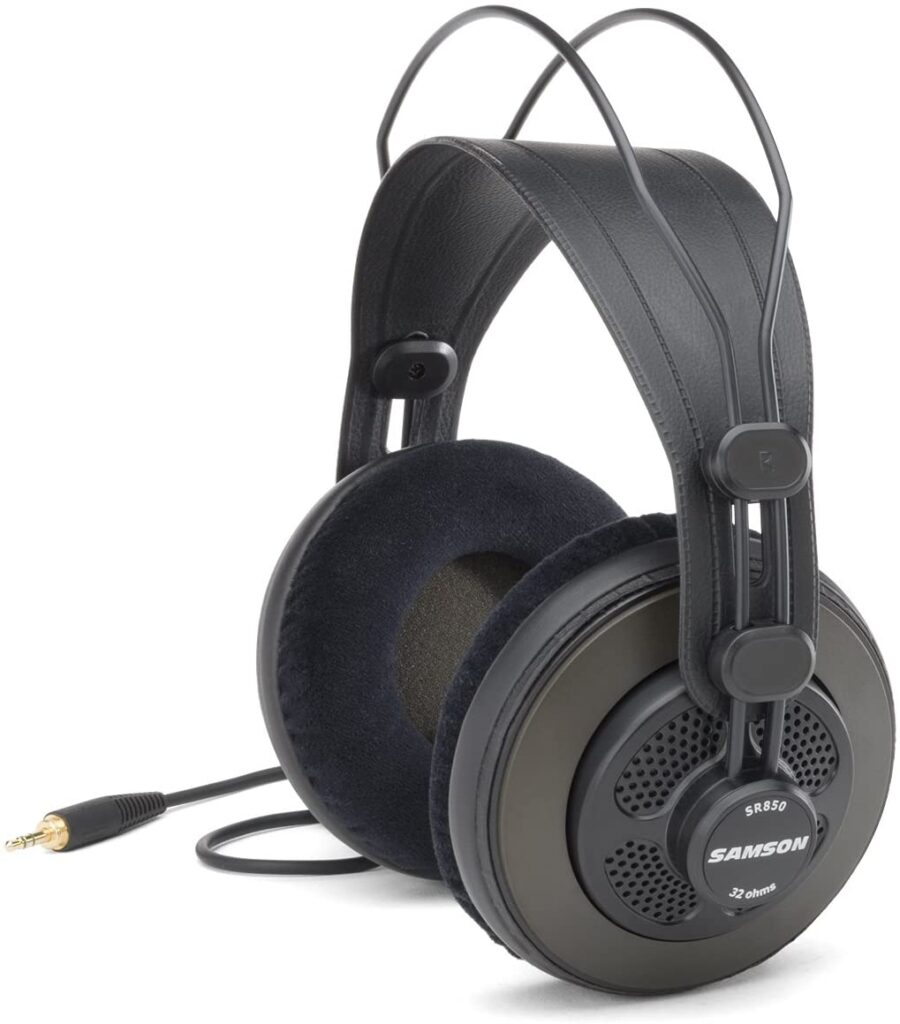 If you're searching for a decent pair of wired headphones for a wide range of uses on a tight budget, the Samson Technologies SR850 semi-open-back studio headphones are an excellent option. The all-black color scheme of the SR850 is both simple and effective, giving it a tactical look that's easy to carry around.
Even in lengthy sessions, I may appreciate the cushioning they provide. The soft, cozy velour ear cushions, self-adjusting headband, and semi-open back design that will better deal with sound leakage than most of its fully opened pears are all to thank for this.
SR850 can give you accurate stereo sound and quick pickup of positional audio, which is ideal for gamers and music listening, as well as sound mixing.
Pros
Affordable price!
So comfortable even for extended use
Surprisingly good sound quality
Cons
4. EPOS I Sennheiser GAME ONE Gaming Headset
Features
Frequency response: 15 – 28,000 Hz.
50 Hz – 16 kHz is the microphone frequency response.
Impedance – 50 ohms
Cable length – 118 inches(PC/Mac), 47 inches(consoles)
The weight is roughly 10.6 ounces.
Our Review
Sennheiser GAME ONE is one of the most compelling gaming headsets, as Epos, a company that has pushed the boundaries of audio technology, would be expected. This retro gaming headset has a traditional design. This open-back acoustic headset is still robust enough to serve you for a long time despite its sleek appearance and lightweight.
The SENNHEISER GAME ONE features a plush velvet earpad and padded headband for maximum comfort. Even in lengthy gaming periods, your head will be chilly, and your skin will be able to breathe freely. The volume control is built into the right ear cup for easy sound adjustment, but you can't completely mute it, so you'll
You can even raise the microphone arm upwards on this open-back headset to instantly silence the microphone. You may easily change the microphone to your liking and get the best voice pickup position thanks to the flexible boom arm. The mic's design will aid in reducing background noise and allowing for clear communication from your side.
This open-back gaming headset offers high-fidelity and precise audio to improve your gameplay and performance considerably. Extreme acoustic clarity is possible due to the innovative speaker design that delivers bass extension without sacrificing other frequencies.
The Epos Sennheiser GAME ONE is extremely adaptable due to the long replaceable braided cable. This headset may be linked with a PC, PlayStation 4, Nintendo Switch, Xbox One consoles, smartphones, and any other device that has a 1/8 inches (3.5 mm) jack input via this cord.
Pros
Awesome noise-canceling microphone
Excellent construction quality
Quality sound
Highly compatible
Cons
It's a little pricey, to say the least.
5. Philips Audio Fidelio X2HR Over-Ear Open-Air Headphone
Features
Impedance is 30 Ohm
Sensitivity is 100 dB at 1mW
Frequency response 5 – 40 000 Hz
Speaker diameter – 50 mm
Weight – about 15.4 ounces
Our Review
Fidelio X2HR has a professional and simple look to it, with no major twists. These headphones are large and comfortable to wear, and because of the self-adjustable lightweight hammock with a 3D mesh, Fidelio X2HR will fit perfectly on any head.
It's also worth noting that even after prolonged usage, the pressure and heat won't go away since its breathable velour safety pads and memory foam earpads of top quality adjust to your ear size.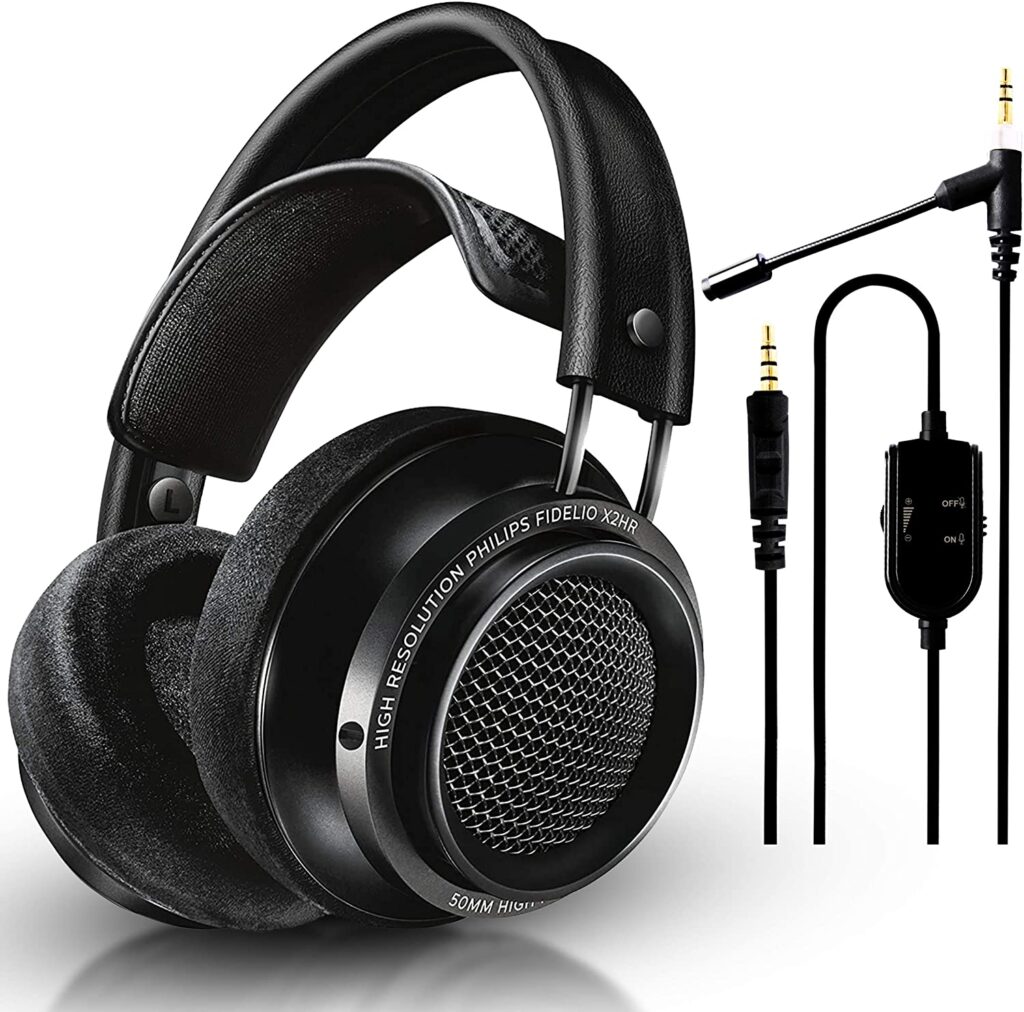 The ear shells are 15 degrees tilted, and they're designed to cut down on resonance and superfluous vibrations. The high-resolution, lively, and extremely detailed game audio is possible because of the 50mm neodymium drivers and ultrasonic open-back design that permits free movement of the diaphragm and significantly improves sound smoothness and
Pros
Good sound out of the box
Solid build quality
Elegant design
Cons
Not a real headset
High-quality, but a tad bit pricey
6. Beyerdynamic DT 990 Premium Edition Over-Ear Stereo Headphones
Features
5 – 35,000 Hz frequency range
The nominal SPL is 96 dB SPL
Impedance is 32/250/600 ohms
Weight is around 8.8 ounces
Our Review
The DT 990 Premium Edition is constructed of high-quality materials and has a classic Beyerdynamic form. These fantastic headphones are available in a grey or black color scheme, both of which appear very elegant and professional.
The DT 990 Premium is fairly modular, which means most replaceable elements, such as the ear cups, are readily available. The three versions of the DT 990 premium are 250-Ohm, 600 Ohm, and 32-Ohm. A 250-ohm version is good for home use on a stereo system; a 600 Ohm version is ideal for HiFi systems with extra amplifiers or a large output, and the basic 32-ohm version works best for mobile devices like smartphones and tablets.
This fantastic kit comes complete with a soft carrying case and an adapter to connect it to a 1/8 inch(3.5 mm) to 1/4inch(6.35 mm) jack. With a gold vaporized stereo 1/8 inch(3.5 mm) mini-jack, this handy device is the ideal accompaniment for a straight 10 feet long cable.
Pros
The look is exquisite, and the build quality is fantastic.
The sound is clear and smooth.
Cons
Requires a lot of energy for higher impedance
Also, read The 3 Best Skullcandy Headphones of This Year Reviews, Headphones that are Indestructible, Music Production Headphones Ratings