It can be tough to find the best SteelSeries headsets of 2022. With so many different models on the market, it can be hard to know which one is right for you. In this blog post, we will review three of the best SteelSeries headsets on the market. We will talk about what makes each headset unique, and help you decide which one is right for you. Let's get started!
SteelSeries Arctis 9X Wireless Gaming Headset
On your Xbox One, setting up a gaming headset might be difficult. You may risk having two simultaneous audio streams if you don't mute your television. The Arctis 9X Headset is the ideal complement to your Xbox gaming tools, so if you're seeking something special to add to your collection, this is it.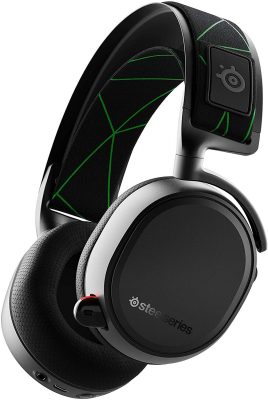 Features
The Arctis uses a Clearcast Microphone
Compatible with Xbox One- Xbox Wireless; PC; Mobile- Bluetooth
Features an integrated Xbox wireless connectivity
Our Review
Pros
The SteelSeries Arctis 9X Headset is a headset with a straightforward style that has a completely flat ear-cup design.
What we appreciate the most about it is that it doesn't have any ostentatious lighting or ritzy add-ons that would dangle from your ears. The ski-goggle headband, which includes AirWeave ear cushions, makes for a very comfortable headset that can be worn for hours without becoming uncomfortable. The headband
The Arctis 9X headphones work well with a variety of Xbox games. You can expect some clear and crisp sounds from your headset, whether you're playing the strategic Wargroove or the fast-paced Doom.
Both the mic quality and sound quality are super cool.
With the Xbox One right out of the box, this headset offers wireless connectivity. This connection is highly reliable, so you won't have to worry about lags or disruptions. When it comes to either utilizing Bluetooth or WiFi direct connection with the Xbox, you'll have no problems or disconnection issues. In addition, the headset has a long life.
Super easy to connect to all Bluetooth devices i.e. laptop, phone, Xbox.
Cons
If you want to use a better microphone with this system, you'll need to invest in an external microphone.
It takes far too long to turn on. It switches off at random, and turning it back on takes forever.
SteelSeries Arctis 7+ Wireless Gaming Headset
SteelSeries Arctis 7+ Wireless headset is designed for multi-system compatibility – PlayStation, PC, Mac, Windows, Android, and Switch. It features 7.1 Surround Sound on PC. The battery life is 30 hours, a ClearCast mic, an easy on-ear headset controls like ChatMix, as well as a robust lightweight steel frame, and the low latency 2.4GHz wireless technology.
Features
You can now use a USB-C dongle with 2.4GHz lossless wireless audio, ultra-low latency gaming, and super reliable 40ft per 12m range for never missing a beat. (USB-A adaptor, not incl.)
With USB-C charging, the AEGIS 35 has a lifespan of up to 30 hours, which is longer than even your most engaging gaming sessions.
7.1 virtual surround sound (PC), and 3D Audio (PS5) allow you to be fully immersed in 360-degree precision audio for a competitive advantage.
The Arctic 7 plus (2021) is a new model in the Arctis 7 series with improved features like USB-C and a battery life of 30 hours. It's part of the award-winning Arctis 7 family, which was recognized by PC Gamer as "the best wireless gaming headset – Arctis 7."
Our Review
Pros
This headset isn't bulky but elegant. The LED around the earset changes color, and it's quite visually appealing.
I discovered that the detachable microphone was more useful than I had anticipated – I could use them as ordinary headphones for watching videos and other activities.
The sound is so genuine, solid, and apparent. I used a sound-testing website to determine how good the headphones sounded and was astonished at the quality of the audio.
It's a tight yet pleasant fit.
Cons
The only drawback to this headset compared to their previous Diablo III headset is that it may be more difficult to keep one earpiece off while gaming and conversing with your opponent. You can still keep one earpiece off, but it's not as simple as it was with the prior model.
SteelSeries Arctis 1 Wireless Gaming Headset
The Arctis 1 Gaming Headset is described with a single word: amazing! These headphones strike the proper balance between price and functionality. This implies that they are not excessively pricey while yet delivering all of the essential functions you would expect from SteelSeries.
Features
It supports both wired and 2.4 GHz wireless connections.
Offers a decent battery life of 24 hours or more.
Uses cutting-edge Arctis 7 speakers for greater sound quality.
The headband is made of steel for added durability.
The high-performance speaker drivers are the same as in the multi-award-winning Arctis 7.
For a proper fit and long-lasting durability, the headband is constructed of steel.
It also has a noise-canceling microphone.
Our Review
Pros
This SteelSeries headphone is constructed of a steel-reinforced headband, making it highly durable. The most significant thing is that the headband is completely extensible, which means it may fit any size head.
The earcup padding is made of memory foam to provide maximum comfort.
This gaming headset has superb audio performance. With the help of the 2.4 GHz wireless connection, you may connect the headphones to your PC or PS4 and enjoy the low-latency sound.
You will have no pauses with this system since the audio data from the main source is processed fast.
The SteelSeries Arctis 7, according to the manufacturer, features the latest Arctis 7 speaker drivers. This is yet another advantage because it allows you to hear every nuance clearly.
The headset may also be linked via a 3.5-mm cable. This provides a more steady connection and flexibility when using your Xbox controller.
I'm not the only one who thinks that this is an incredible microphone. When I first used it, people didn't know me over my old microphone.
With so many equalizer settings, it provides excellent sound quality. The volume is loud enough, and the safety settings can be bypassed if you want to permanently damage your hearing.
If the headphones are not in use, they will switch to speakers. This was a perplexing feature that I can't imagine living without now. My speakers function normally when I'm not using the headphones. Everything migrates from my speakers to my headset whenever I turn on my headphones.
The swappable batteries are fantastic. You're never out of power, which is critical in key situations.
Cons
The material is described as being extremely breathable, but my ears still get heated after using it for an extended period of time.
In conclusion: SteelSeries is the brand to go for if you're seeking high-quality gaming headphones. Their headset line strikes a perfect balance between design, usefulness, and value for money. These are the Best SteelSeries headsets reviewed from experience to give you information that will meet your different consumer needs. SteelSeries comes in different price ranges and has unique features that set each one apart from other models.
Also, read The Best Hearing Protection for Dogs – Options & Reviews for 2022